Hello gorgeous people! The hunk and I are enjoying our last few days together before he leaves again. These are the last few days alone with each other before baby and family arrive! It's hard to believe that for the next 18 or so years (better only be 18, hah) it'll not only be the hubs, pooch and I but also one of the most important additions to our family. Um. Crazytown!
Anyway, I had a good day in eats so I'm excited to be linking up with
Jenn at Peas and Crayons for WIAW
...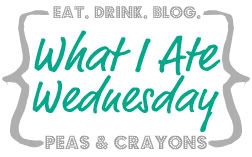 Breakfast
A crazy delicious, party in my mouth, mouthgasm x100000 satisfying pumpkin pecan protein waffle. Get it? It was a really good waffle if you couldn't already tell...
In my mix: Buckwheat flour, pumpkin, pecans, cinnamon protein powder, flax, wheat germ, chia seeds, and almond milk served with some good ol' grade A maple syrup on the side.
I think the relish makes the tuna. It wasn't as good as Panera's but hey, at least I don't feel too bad about my meal. And my wallet thanks me too.
Dinner
If you follow my tweets you'll know that I've been tweeting about how my husband has picked up a few of my pregnancy symptoms. He is now "craving" certain meals and won't stop talking about them. Usually I feel that if you want something that badly, you should make it yourself but as I've hinted before, that man is a DISASTER to the max in the kitchen. And since I'm on a mission to put some meat back on his bones before he loses it all again during his training, I was more then happy to finally oblige tonight.
One meal he's been "craving" has been biscuits and sausage gravy....blegh. But I figured I could make it
not as bad for you
and still make it tasty so I gave it a shot.
And I'm so glad I did, it was full of flavor and just plain delicious! Plus, breakfast for dinner is always amazing ;)
For the gravy:
16oz of chicken sausage (I used my favorite
Al Frescro
chicken brand)
1 finely chopped small sweet onion
6 tbs of Spelt flour
4 cups 2% milk
1 tbs butter
1 tbs all spice
1 tbs minced garlic
2 tbs hot sauce
2 tbs Worcestershire sauce
2 tbs sea salt
1 tbs pepper
Peel skin off sausage and crumble into pieces. In a medium heated saucepan, saute onions in butter until soft. Add crumbled sausage and cook until almost cooked through. Add spices over the sausage and mix everything together. Turn heat down and add milk. Then continue adding Spelt flour until sauce thickens up!
And voila. A classic breakfast meal for dinner that's not too bad for you and actually tastes pretty freaking fantastic if I say so myself.
We used ready made biscuits but next time I make this meal (yes, there actually will be a next time) I definitely plan to make the biscuits from scratch.
Workout
A 2.5 mile run and 1.5 mile walk with the hunk and pooch. I'm sore from yesterday's CrossFit workout so I figured I'd take it easy today. If you're wondering what yesterday's WOD was for me it consisted of:
21-15-9
Pullups
Right Arm Snatch
Left Arm Snatch
AMRAP Hang Cleans
2.5 mile run
And a few random things before I sign off...
I'm thinking of dying my hair again and going dark for the fall/winter...thoughts? (I know I look washed out in this pic, stupid flash!)
I find this video AWESOME:
And want to get all hormonal and emotional? Another blogger I follow posted the second half of her birth story and it almost had me bawling. The last line really got to me. Read
here
.
Have a great night!